Click-and-Collect Loss Prevention Best Practices
Retail
Corey Adams
•
6 min read
Updated: July 27, 2022
Published: December 2, 2021
How do retailers prevent loss while ensuring a great customer experience across channels like click-and-collect, curbside pickup, and more?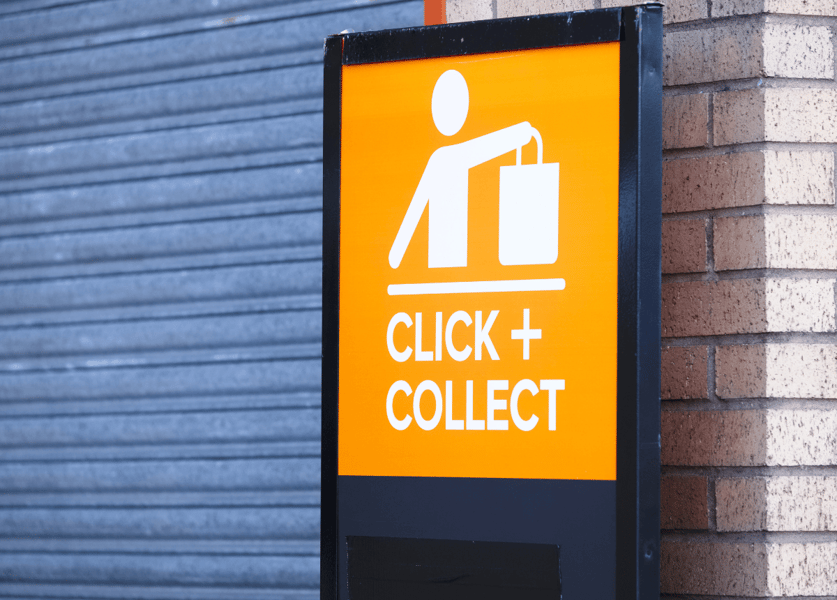 Buy Online Pickup In-Store (BOPIS), curbside pickup, and automated lockers make it convenient for customers to get what they need now. But how do retailers make sure they prevent loss while ensuring a great customer experience across all of these channels?
1. Implement secure, easy-to-click payment options
A National Retail Federation survey showed that 90% of customers choose a retailer due to convenience, and 70% said BOPIS transactions improved their experience. Click-to-pay options are part of the convenience factor that attracts and retains loyal shoppers.
Click-to-pay is here to stay. However, retailers must be vigilant to identify fraudulent purchases before the items are picked up. In addition, click-to-pay transactions do not contain the same amount of data as an in-store transaction (like a shipping address) and are less secure than a chip or tap-to-pay option, increasing the retailer's risk.
However, Visa offers best practices for BOPIS payments that include:
Manually reviewing high-ticket purchases.
Creating alerts that indicate frequent purchases by the same billing address, email, or payment method within a short time, at the same or multiple locations.
Tracking devices (IP addresses) and emails used by customers, especially if there were previous declined purchases.
Monitoring customer purchase patterns, especially for high-value items, declined purchases, or gift card purchases.
Reviewing loyalty program activity for inconsistent or unusual behavior.
Retailers should set expectations for the click-and-collect customer at the time of purchase. Clearly state the steps they must take to get their product, from checking their email, parking in the correct stall, or having their QR or barcode ready at pickup time.
2. Offer convenient and automated pickup
Retailers have had a few years to integrate BOPIS pick-and-pack into their brick-and-mortar locations. But one of the primary complaints by consumers is that they want pickup locations to be near the front entrance, not the back corner closer to stockrooms. As a result, retailers are reconfiguring stores to put pickup locations where they can easily accommodate customers.
Lockers are growing in popularity, offering an automated way for employees to prepare orders and customers to pick up without waiting for employees. Amazon lockers are now located in convenient neighborhood locations, including Whole Foods stores. Walmart also offers their Pickup Tower, letting customers pick up items on their own schedule. They notify the store on the Walmart app of their arrival time, scan an order confirmation, and a door opens, allowing them to access their order.
Similarly, stores like Target and Home Depot provide curbside service, allowing customers to stay in their cars while notifying staff of the stall where they are parked. Again, this option is convenient and provides a sense of security for customers who do not or cannot go inside.
Retailers should implement specific workflows for BOPIS curbside service to ensure products are safely delivered to the customer with a confirmation notification.
3. Provide real-time, accurate inventory data
The primary appeal of click-and-collect channels is that customers can access products immediately, conveniently and avoid shipping costs. However, this model's success depends on available inventory, requiring retailers to have up-to-date data for customers to see at the time of purchase.
Without real-time or near real-time data, customers are disappointed and lose faith in the retailer. Customers know if the products they want are currently available or expected wait times. In addition, retailers can incur extra labor and transportation costs if they don't have the product on site but must quickly travel to get stock from another store location.
BOPIS requires technology, including POS systems should sync offline and online orders, including sales data, integrate with order management and workflow automation to provide up-to-date inventory information.
Package audits will ensure that the number of orders processed matches customer pickups or shipments. Best Buy also worked with UPS to design a unique shipping label, allowing visual verification of legitimate store shipments – as opposed to employees who slipped in personal shipments in an attempt to get the retailer to pay their shipping costs.
4. Monitor employee click-and-collect workflows
Training is essential for in-store employees who serve BOPIS, curbside, or automated locker customers. In addition, with short availability windows of 2 hours or less, employees must be responsive to online purchases.
Employees should know how to read orders, pick correct items to fill the order, prepare orders for pickup, and process returns. These skills are dissimilar to cashiering or shelf-stocking skills and require different types of training.
However, BOPIS operations present security concerns. Retailers should establish workflows with checkpoints that ensure products ordered match products picked and packed. Video and intelligent systems allow retailers to monitor employee activities and identify ways to streamline the process.
Collusion is another concern, primarily if in-store employees work with Organized Retail Crime (ORC) groups to defraud retailers. For instance, CSRs may issue customer "appeasements," where the retailer ships replacement products or gift cards to themselves, friends, or other groups. Analytics that compare employee addresses to appeasement shipments will target and reduce losses.
5. Keep on top of returns
Returns processing policies are essential to ensure that products complete the return cycle. However, return theft is on the rise, and retailers must be wary of potential glitches. Fraud costs retailers $5.60 for every $100 of items returned, approximately $25 billion for 2020, with about 1/3 of all items purchased online will be returned.
The top reasons for eCommerce returns include damaged or defective products, items were not as advertised, the apparel did not fit, and the live product was DOA. Considering that 25% of all returns occur between Thanksgiving and New Year's Day, retailers should ensure their training, staffing, and workflows are on point for the holiday season.
Ideally, customers want sellers to offer free returns and return shipping. Convenient return hubs help meet the need for convenience and can encourage repeat purchases.
However, product switches are growing in popularity, especially by ORC groups. For example, thieves will purchase a high-value item but return a low-value knockoff and collect the price difference in cash or gift cards that can later be sold. Customers may also claim that they did not receive what was ordered or return the wrong item. "Wardrobing" is another issue, where customers never intended to keep the item and return apparel items after one wearing or a book after reading.
Overall, retailers must have a return policy that balances appropriate returns without alienating or losing customers. Using analytics to target repeat return offenders helps retailers target and prevent future transactions.
Analytics pinpoints BOPIS vulnerabilities
Loss can occur at any point in the click-and-collect process, from fraudulent customer payment to employee theft. The key is pinpointing where loss occurs so retailers can correct potentially damaging practices. Leading retailers are using new tools and analytics to:
Ensure payments are valid, especially for "card-no-present" transactions.
Monitor video of in-store BOPIS packing areas
Comparing product appeasements to employee data to ensure return and markdown requests to cut down on internal theft.
Monitoring POS transactions to alert LP to unusual customer buying patterns.
BOPIS needs to be convenient and add to the bottom line. Our free guide shows how analytics can make the most of your click-and-collect operations and ensure customers get the convenience they crave.
Learn more about Loss Prevention & Asset Protection.
Subscribe to our blog
Receive free educational resources like exclusive reports, webinars, and industry thought leadership articles straight to your inbox.