When will Retail Recover? Post-Pandemic Consumer Trends and Tips for Retailers
Retail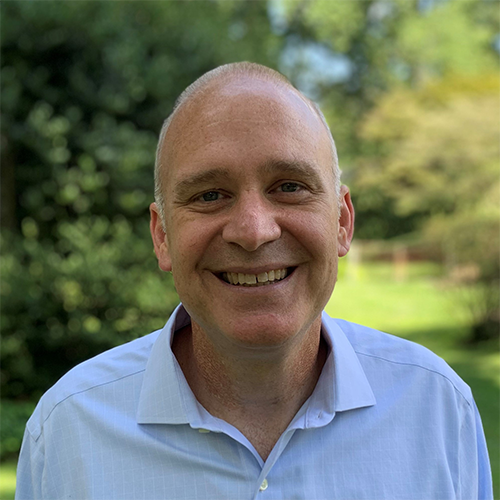 Brian Brinkmann
•
6 min read
Updated: July 27, 2022
Published: June 17, 2021
In conjunction with IHL Group, Agilence conducted a Global Consumer Study on buying and spending trends for the retail's post-pandemic recovery.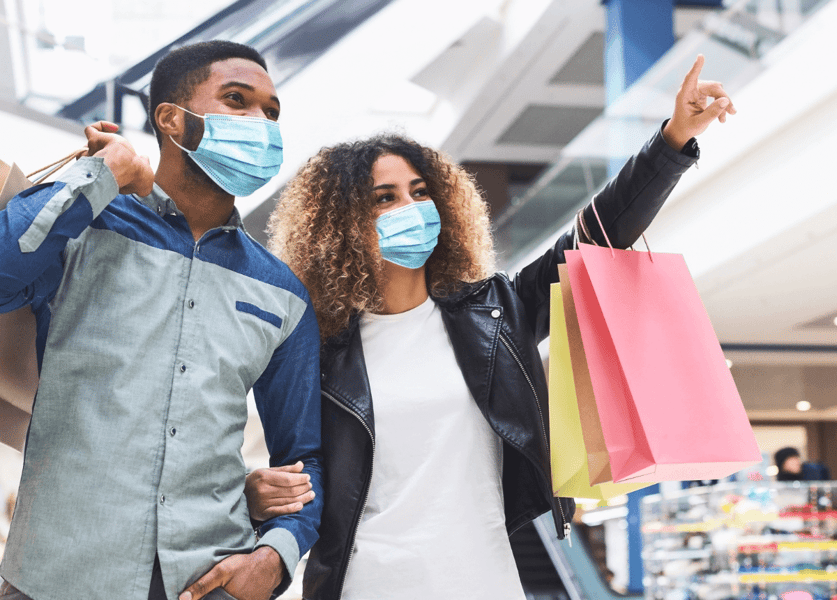 In conjunction with IHL Group, Agilence conducted a Global Consumer Study on spending trends for the retail sector. Below are insights that retailers need to know. `
Households earning less than $50,000 received the worst blow from the pandemic, with over 25% of having at least one member on unemployment, and only one-third (34%) had jobs where they could work from home. "Recovery" for these households came in the form of stimulus checks and government assistance.
For households earning more than $100,000, less than 4% had household members receiving unemployment, and nearly two-thirds had jobs where they could work from home. These households were more dependent upon savings, investments, and rising home equity in addition to stimulus payments.
The recovery appears to be in sight with vaccines fueling consumer spending, with the US being three months ahead of other nations in their vaccine efforts. As restrictions ease and vaccinated people feel safe to travel, they are opening their wallets and enjoying being released from lockdown.
The US is Leading the Retail Recovery
It is clear that North American consumers are going to lead economic recovery worldwide going forward, according to respondents.
Planned budget increases between March 2021 and March 2022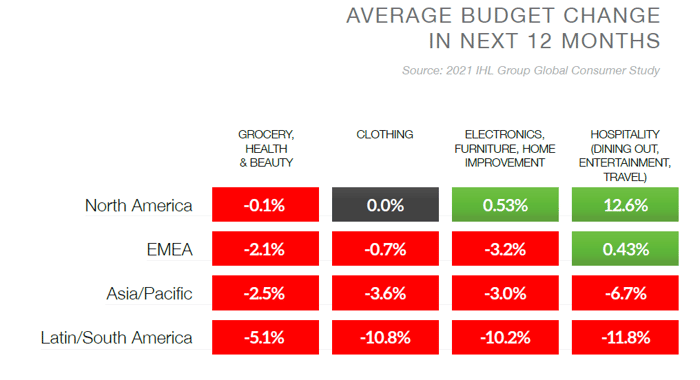 In North America, spending remains constant on groceries, health and beauty, and clothing. However, our survey respondents plan to increase purchases by 0.53% on electronics, furniture, and home improvement and by a whopping 12.6% for hospitality. US consumers are ready to leave lockdown behind, have more fun, and spend more on dining out, entertainment, and travel.
However, countries highly dependent on tourism and oil production have the most challenging economic recovery, dramatically affecting retail, restaurant, and hospitality sectors.
Countries where governments covered salaries to stave off unemployment but provided only one round of stimulus payments are having inferior retail recovery. This is because all of those households are facing 15-20% lower incomes over the past year and many are still in lock-down and can't spend to the levels they were previously.
US Pent up Demand Drives Retail Spending
Households with income below $50,000 will still be conservative in their spending, with slight increases for dining out, entertainment, and travel. For households with over $50,000 income, all retail categories are expected to increase.
Consumers are unleashing their pent-up demand, resulting in some short-supply items and dramatically higher prices than one year ago. The US has shortages of computer chips, used cars and rental cars, toilet paper and diapers, furniture, oxygen, and other everyday items that consumers use. Shortages are due in part to COVID demand, severe weather, and foreign trade challenges.
Our study indicated that people are ready to buy everything from clothing and electronics, travel and entertainment services. However, we believe our results for the clothing category are probably understated. After all, who doesn't need clothes for that new vacation or for back-to-school (especially if on-site education returns)? Our study revealed that clothing budgets are projected to increase by 30% from consumers who prefer to try on and buy clothing in a brick-and-mortar environment.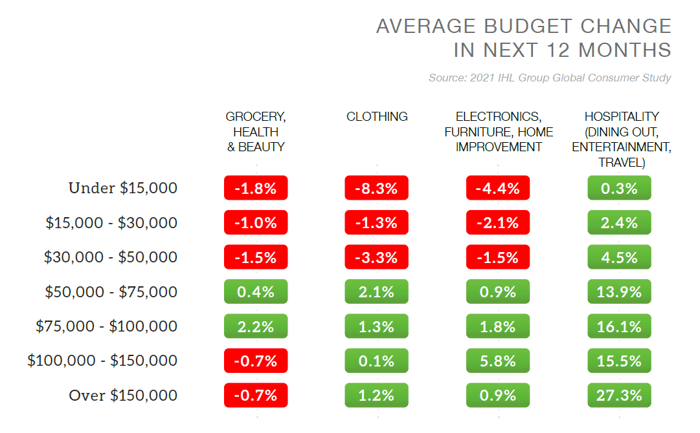 Are retailers ready for a Post-Pandemic World?
Will retailers be ready to meet the challenges of pent-up demand? Will customers continue to shop at home, online, or keep using curbside pickup? What is the state of in-store shopping?
The key for retailers will be the need to plan for and continually monitor the shifts in their demand by channel. While the changes in North America are happening in real-time now, it is expected when the in-store changes come to each region they will be as significant and rapid when they do arrive.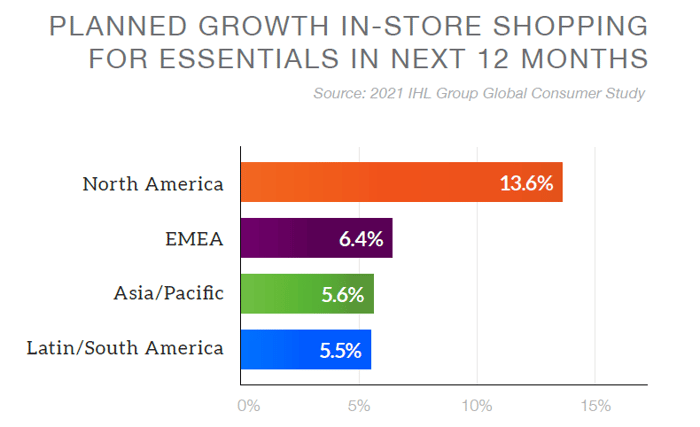 US shoppers enjoy in-store shopping more than other countries, putting pressure on retailers to provide the inventory, labor, and service that customers expect while maintaining profit margins. Providing a top-quality customer experience is essential to build retailer brand loyalty, but this loyalty must be built across multiple channels, from in-store to digital.
During the pandemic, retailers were quick to implement digital channels to serve customers. Retailers who were adept at digital transformation (like Walmart) had secure apps and infrastructure to serve customers. However, retailers who rushed into offering an app during the pandemic were 5X more likely to deploy less secure mobile devices.
The good news is that retailers had time to learn from and correct their mistakes due to the length of the pandemic. They now have more secure technology to offer consumers and will continue to provide high-quality digital channels.
Our study showed that the US is far behind other countries at being "digital natives." US households only spend 31% of their budget on essential online purchases, where other countries spend nearly 60%. US consumers are looking forward to getting back to an in-store shopping experience, but retailers still need to provide an exceptional digital customer experience.
Post-Pandemic Takeaways for Retailers
The pandemic changed retail forever, forcing new digital channels to emerge while providing a top-quality in-store customer experience. As the retail environment continues to change in real-time, what should retailers take away from their pandemic experience for 2021 and 2022?
Digital is here to stay (but so is in-store). In-store demand will rise, but consumers are now used to digital journeys. "Retailers and restaurants alike cannot continue to operate as they have for the last year. They must not only optimize the digital journeys but must rethink the in-store operations as well."
Speed up the checkout process. Contactless payment made purchases quicker and less frustrating while improving productivity. "Anything that retailers can do to reduce the friction of the checkout lines and spreading people out is here to stay and we are seeing rapid adoption of these checkout technologies to remove labor from the operation and speed the process for consumers."
Painful digital returns drive in-store shopping and purchasing. People like to try before they buy which is difficult to do with online orders. "For the traditional clothing purchases, however, expect to see consumers back in the stores at higher levels. The data was clear in this study that consumers around the world prefer to try on their clothes before buying and that eCommerce returns remain a major problem for both consumers and retailers."
The retail workforce may compete with restaurants and hospitality for labor. As consumers return to dining out, the hospitality industry may compete for the same workforce as retail. "While retail has seen a great deal of change, the challenges for restaurants and hospitality are even greater. In many cases there has been very little dine-in business and yet there is a massive demand coming for dine-in and most restaurants and regions are not prepared to handle that volume."
Customer demand is up – and they want more than just products from their retailer. In our report, When Will Retail Recover?, we collaborated with IHL Group, to identify global and regional trends. Download the complete report here.
Subscribe to our blog
Receive free educational resources like exclusive reports, webinars, and industry thought leadership articles straight to your inbox.