Webinar Recap - Retail's Digital Journey: How Winning Retailers Are Controlling Shrink and Thriving
Retail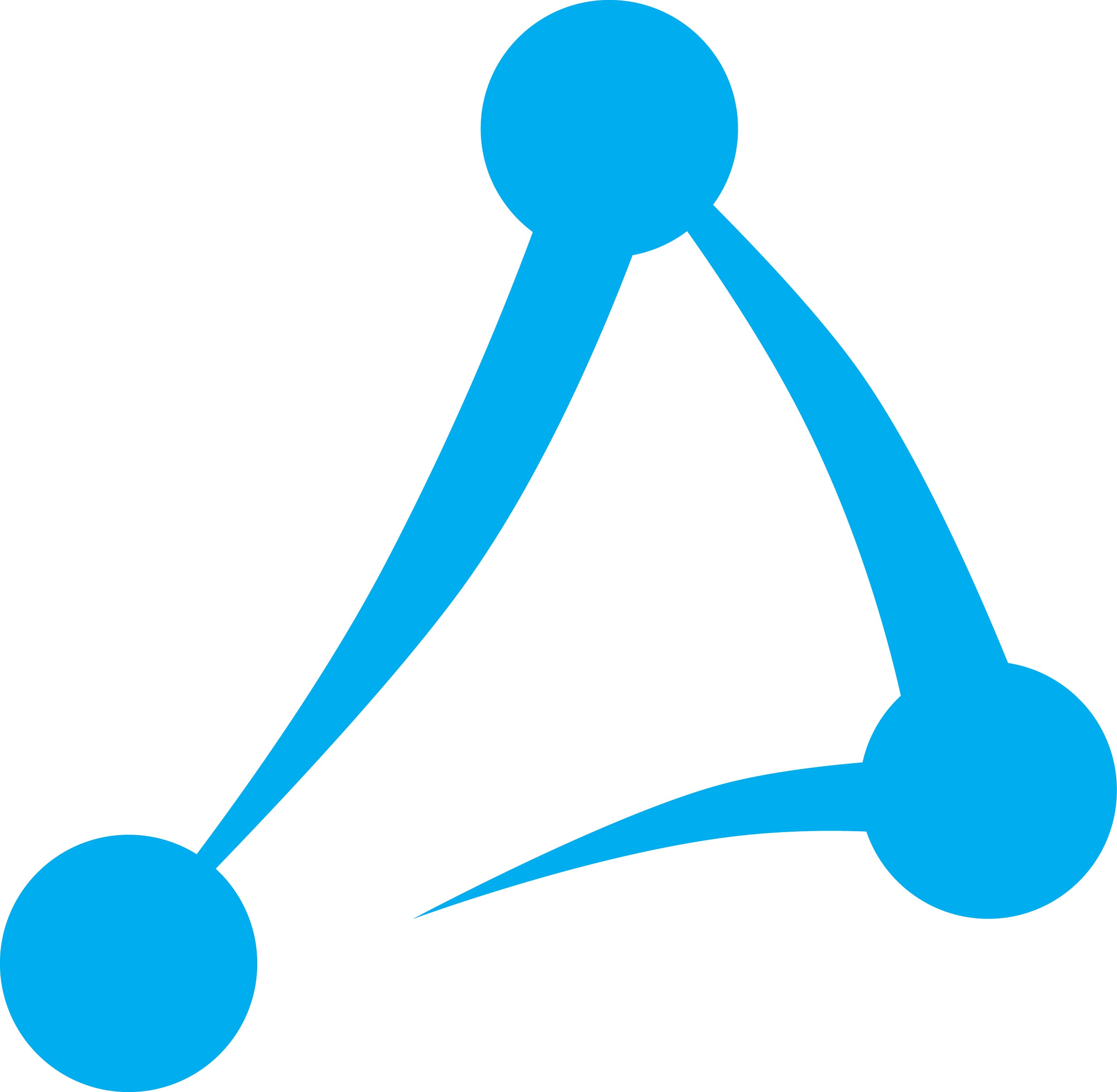 Agilence Staff
•
5 min read
Updated: July 27, 2022
Published: June 3, 2022
A recap of our recent webinar, 'Retail's Digital Journey: How Winning Retailers are Controlling Shrink and Thriving'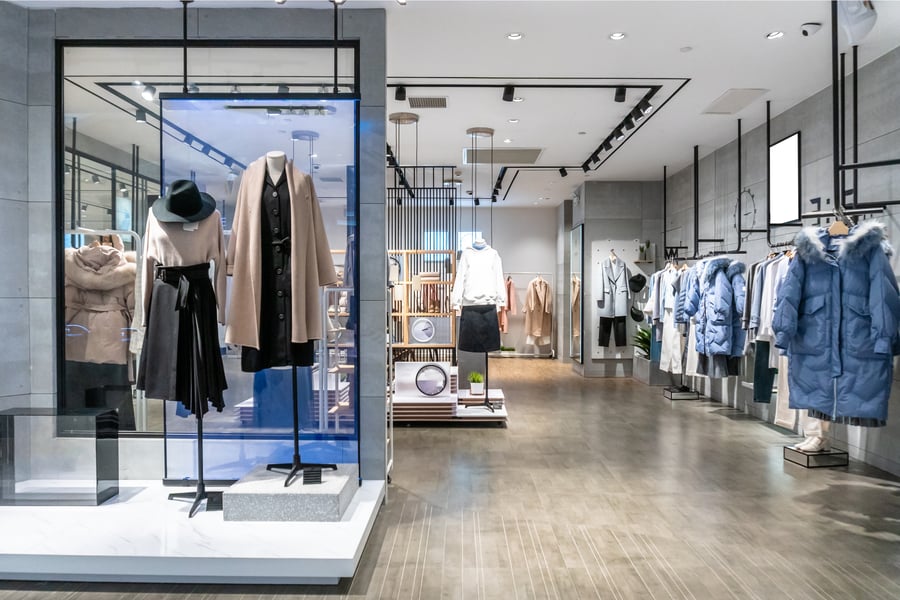 In our recent webinar, Retail's Digital Journey: How Winning Retailers are Controlling Shrink and Thriving, Greg Buzek of IHL joined Agilence's Pedro Ramos to discuss the current economics of the retail market, optimizing the digital journey, and what "must-have" retail analytics should be in your toolbox.
Ukraine – Russia War has a Far-Reaching Impact
Retail growth is now impacted by inflation and the war in Ukraine. European countries are noticeably affected, with Ukraine and Poland having had over 18% growth from January to February, with Hungary at nearly 10%, followed by France and Italy at just over 4%. Germany and Spain reported a shift from positive growth in January to zero/negative growth in February.
These countries are also experiencing approximately 6% to 10% inflation, with energy costs in the UK rising by 57%. Poland is also likely to grow as over 2.8 million Ukrainian refugees have entered the country.
The impact of the war in EMEA countries resulted in rapid inflation, increasing GDP by .2% for Q1. As government aid flows into retail and bordering nations, residents of EMEA countries have limited discretionary income. Still, they are spending on the basics, including used or inexpensive clothing, and are rapidly shifting to low-carb, plant-based diets. People in host countries are also traveling less, impacting associated retail expenditures. In addition, EMEA countries previously depended on Russia and Ukraine for more than 50% of their grain and are compensating by making lifestyle shifts.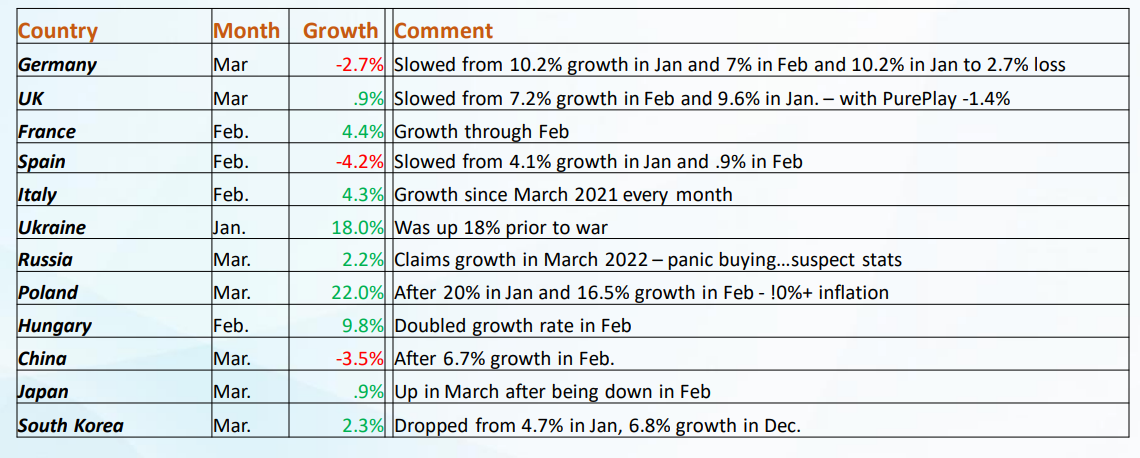 Other countries that relied on Russian and Ukrainian grain imports also felt the impact of the war, especially in African, Middle Eastern, and Central Asian countries. More than 40 countries previously got 50% of their grain from Russia and Ukraine, and shortages are now resulting in political instability in countries like Tunisia. In the fall, planting seasons are likely to be disrupted, resulting in more economic and political issues. These countries have also been heavily reliant on Russian heating oil, and shortages will have a significant impact as tighter sanctions are likely. European countries are less likely to feel the Russian heating oil impact.
US Retail Sales Growth
IHL's research YoY monthly research from October 2021 to February 2022 showed detailed growth for retail categories. For YoY ending December 2021, clear winners included:
Specialty soft goods – 48.4%

Convenience & gas – 36.6%

Restaurants – 32.1%

Department stores – 22.3%

Specialty hard goods – 18.2%
However, in March 2022, inflation is dramatically impacting growth just three months later. While total retail sales were up 9.3% YoY for March 2022, adjusting those sales downward for inflation shows a different picture.
For instance, convenience and gas retail sales are up 37.9% YoY but have negative growth when adjusted for the estimated inflation rate. Conversely, the only segment with positive, inflation-adjusted growth was restaurants, with 20.2% YoY growth but single-digit adjusted growth.
With real inflation in wages and product costs reaching greater than 15%, consumers show signs of cutting back on discretionary spending, especially for dining out, entertainment, organic/premium groceries, and vacation and travel. In addition, April retail results will be the "triple witching hour" for clothing as lower tax returns and rapid inflation affected consumer spending.
Retail labor shortages should start to moderate as more people, estimated at 800,000, re-enter the workforce even though unemployment rates remain at a historic low. However, we will also see ongoing shortages of chips for electronics and batteries and a continued backlog of shipping containers from international ports. For example, the average time at a port in China stands at 14 days, up from 4 days, but US ports have resolved last year's backlog of container ships at California ports.
Consumers Rely on Omnichannel
Nearly two-thirds (64%) of North American consumers will still shop in-store for essentials, purchasing digitally for the remaining third. Clothing purchases are estimated to be 55% in-store and 45% online. Countries in the EMEA, APAC, and Latin/South America rely on digital channels by 5% to 15% for both essentials and clothing.
However, each channel continues to have pain points. Product availability is the top issue for in-store purchases, represented by 69% of the retail budget. Store lines, COVID safety, incorrect prices, and lack of staff are also top issues. For click and collect options, wait times/slots, substitution issues, and fewer promotions/discounts are top issues representing 30% or more of budget. Delays with pickup and the inability to add to an existing order round out the top five pain points at 26%.
Shrink Remains a Top Priority
In 2021, North American retailers experienced $165 billion in losses due to shrink and insufficient digital journeys, according to an IHL study. For example, when digital journeys are not optimized, BORIS (Buy Online Return in Store) resulted in an 8.1-point margin loss, followed by BOPIS (Buy Online Pickup in Store) with a 6.8%-point loss and Buy in Store Ship from Warehouse with a 6.3 point loss. The remaining issues were click-and-collect (4.4 points), buy in-store curbside pickup (3.6), and pick up at another store (3.3).
When optimized, BORIS results in a 7.5-point net profit improvement, followed by BOPIS at 7.2 and buy in-store ship from warehouse at 6.3-point improvement. However, only 54% of retailers have optimized for ship-from-warehouse options-, the highest optimized category.
Controlling shrink and optimizing channels requires retailers to have advanced tools, requiring new investment. Nearly half (47%) of retailers in an IHL survey cite inventory visibility as their top tech priority, followed closely by refreshing their POS Infrastructure (46%) and personalizing the customer experience. OMS updates, empowering store associates, upgrading CRM/loyalty, and self-checkout were also top priorities. Spend for innovation is up to 37% of retailers instead of 20% in 2018. Winning retailers invest 47% of their IT spend on innovation as opposed to 37% for average retailers.
As retailers seek to optimize the existing customer journey, they must also look ahead to future innovation. Having better tools for associates and fixing inventory issues remains a priority. But investing in AI/ML for store operational issues will continue to gain greater importance.
Having the right digital tools is essential to optimizing customer journeys and combatting ongoing volatile economics. Staying ahead of the game helps retailers stay profitable and develop stronger customer relationships. For more information, watch the full webinar here or download the report below.
Learn how to Build a Retail Loss Prevention Strategy.
Subscribe to our blog
Receive free educational resources like exclusive reports, webinars, and industry thought leadership articles straight to your inbox.