Retail Security Tips to Keep Customers and Staff Safe in Uncertain Times
Retail
Corey Adams
•
4 min read
Updated: July 27, 2022
Published: February 17, 2022
Retail sales are up, but so are security concerns. As consumers continue to visit brick-and-mortar stores retailers must address theft and safety concerns.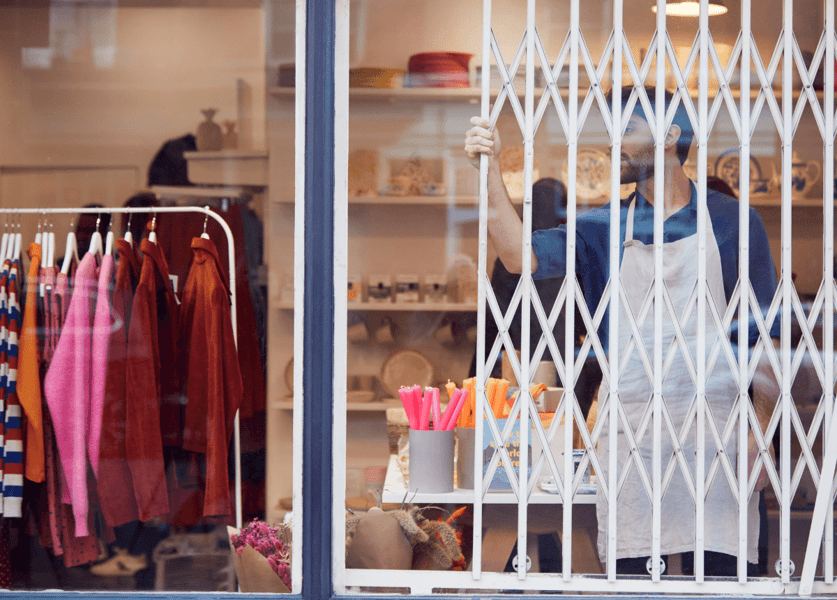 Retail sales are up, but so are security concerns. As consumers continue to visit brick-and-mortar stores, retailers must address theft and increased health concerns. The National Retail Federation's 2021 Retail Security Survey reported that the top retail safety issues are:
The overall risk to the organization from the pandemic, noted by 69% of retailers
Increased levels of organized retail crime (ORC) violence, with 65% of retailers concerned
Workplace violence, reported by 61%
Multi-channel fraud increase, reported by 39%
As a result of these threats, over half of retailers (53%) are increasing LP resources to keep customers and employees safe.
Increased Risk Factors for Robbery and Violence
Understanding the root causes of store theft is essential for basic store security. The National Institute for Occupational Safety and Health (NIOSH) studied 460 convenience store robberies to identify the highest risk factors for robberies:
Poor cash handling policies
Poor visibility of clerk or register area from outside of the store
Lack of employee robbery prevention training
Lack of security systems
Reducing the risk of robbery, violence, and employee harm is dependent on basic security protocols and training that include:
Alarm systems with panic buttons
Locking delivery entrances
Appropriate outdoor lighting
Interior and exterior video cameras, appropriately focused on key areas
Door opening detectors
Adequate number of employees, especially after dark
Engagement with local police departments
Security equipment and trained staff help reduce the incidents of theft. But what else can retailers do to improve security at their stores?
Seven ways to improve security in your store
#1 Improve access control. Managing the number of people within a retail space has never been more critical. Employee, vendor, and customer entrances should track the number of people in the store to ensure occupancy is consistent with health mandates. Touchless access systems use facial recognition, helping to identify authorized employees while targeting potential intruders. These systems can secure a facility in seconds, using remote and cloud-based systems. Adding access control to existing systems can protect employees and consumers, creating a safe retail environment.
#2 Implement anti-theft devices. No longer a clunky product attachment, RFID and Electronic Article Surveillance (EAS) can identify theft at store exits and improve deactivation techniques at checkout to make it easier to track and purchase products. As ORC gangs focus on stealing high ticket items, anti-theft devices are a potential solution to reduce theft.
#3 Outsource retail security management. Many retailers cannot afford to have a 24/7 security team. New, cost-effective options include remote monitoring systems backed by professional LP support to keep an eye on physical stores and products. Retailers who already have a video monitoring service can outsource monitoring to remote expert security teams to watch video and report suspicious incidents.
#4 Conduct fraud training. As retailers deal with acute staffing shortages, they also have a duty to train and protect employees. Continued fraud training sends a message that theft won't be tolerated and informs employees how to watch for it. As ORC gangs become more sophisticated, retailers need to keep employees trained and aware of potential issues.
#5 Use analytics to monitor employee theft. LP professionals can now identify loss on a granular level and target individual employee issues. Because of economic pressures, employee morale may be at an all-time low, increasing the motivation for theft. In addition, retailers may have reduced LP support and potentially reduced fraud controls, increasing theft opportunities. Analytics are an efficient way to monitor employees and item theft, especially when paired with video monitoring.
#6 Keep people safe with OSHA recommendations. OSHA has issued retail administrative controls that include disinfecting protocols, keeping socially-distances queues, restricting the number of shoppers, and offering additional employee breaks for handwashing. These guidelines help keep employees and customers safe, allowing them to shop in a secure environment.
#7 Teach employees how to handle violence. Employees can better handle potentially violent incidents if they receive advanced training. Reporting any acts of violence by customers or co-workers is essential. Keeping outdoor areas, like garbage dumpsters, well-lit with easy access reduces the threat of a violent situation. Conflict avoidance, including not engaging in arguments with customers, keeps them safe. Finally, employees should report any domestic violence situations to HR to help identify individuals who may potentially harm an employee in their place of work.
Staying Safe in Times of Change
We live in challenging times that require us to identify potential security issues in advance and train people to handle them. Being proactive keeps everyone safe and sets the stage for consistent customer and employee experiences.
We're sharing advice from 20 Loss Prevention and Asset Protection leaders that will change how the industry operates. Download your copy today.
Subscribe to our blog
Receive free educational resources like exclusive reports, webinars, and industry thought leadership articles straight to your inbox.