Introducing the All-New Agilence Analytics Modules
Press Room
General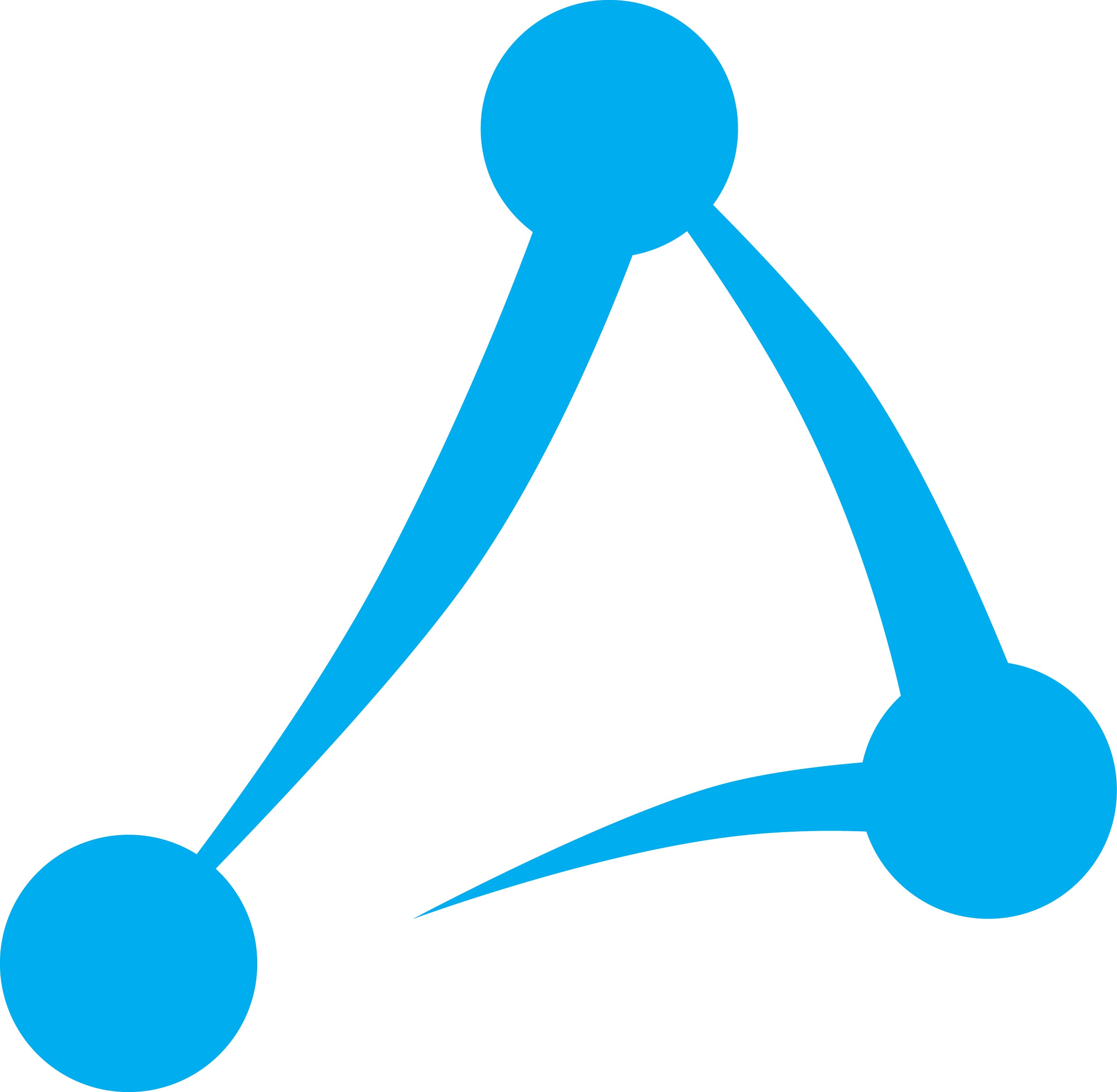 Agilence Staff
•
8 min read
Published: October 23, 2023
We're thrilled to announce the all-new Modules for the Agilence Analytics Platform! Learn about the eCommerce, Inventory, DSD, and Scale Production Modules.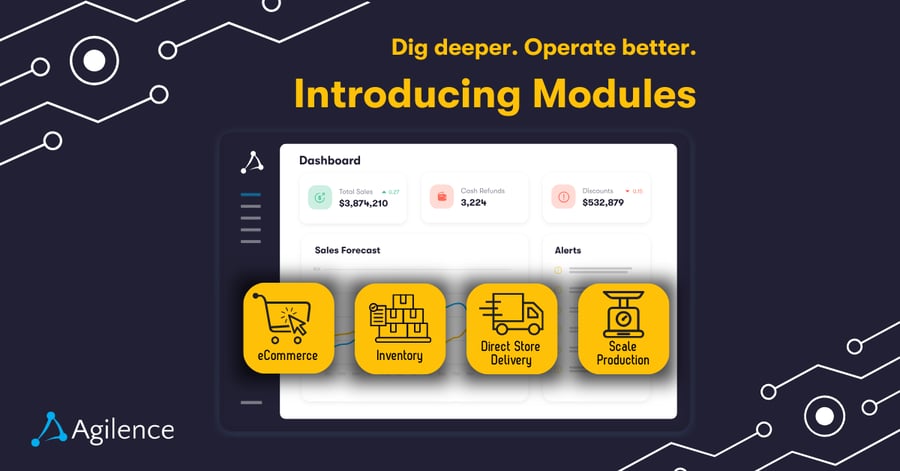 The NRF estimates shrink at $112.1 billion or about 1.6% of sales in 2022 – money that represents pure lost profit.
Our flagship Agilence Analytics platform helps our customers identify and reduce shrink and improve their margins by saving them millions every year, and now there's more ways to uncover savings.
That's why we're excited to announce the all-new Modules for Agilence Analytics. The Modules are purpose-built dashboards and reports that solve business challenges out of the box. This release contains four modules which allow users to unlock the full potential of their operations:
eCommerce Module

Inventory Module

Direct Store Delivery (DSD) Module

Scale Production Module
These Modules empower users to delve deeper into specific operational areas, more easily gain actionable insights, and curb shrink, all within the Agilence Analytics Platform.
Let's explore each one.
eCommerce Module: Bridging Physical and Digital Retail with Unified Insights
E-commerce is an ever-growing portion of retail sales, topping $1 trillion in the US for the first time last year, and is projected to continue to rapidly grow in the years ahead. Yet with the opportunity presented by e-commerce also comes a whole new set of challenges.
New forms of digital theft and fraud are always arising, and identifying and combatting these presents unique challenges compared to in-store theft. Higher thresholds for addressing online fraud and the risk of losing customer business deter organizations from seeking assistance in resolving e-commerce issues.
Many organizations face challenges in effectively integrating e-commerce data into their existing systems, are overwhelmed by the abundance of e-commerce data and unable to find the actionable insights, and/or exclude Loss Prevention (LP) teams from e-commerce data, leading to missed opportunities for shrink reduction. Issues with shipping carriers and vendors, as well as claims of theft by "porch pirates," can present nuanced problems requiring a fine balance between customer satisfaction and profitability.
The eCommerce Module provides powerful insights into e-commerce sales, returns, and customer behaviors, highlighting key metrics such as Average Basket Sizes and Sales Reducing Activities for each store. It also offers a detailed look into specific e-commerce operations like Buy Online, Pickup In-Store (BOPIS); Buy Online, Return In-Store (BORIS); no-cost sales; and special promotions. Additionally, the Module reconciles inventory for in-store and digital channels as well as analyzes shipping patterns and identifies areas of concern, improving customer satisfaction, reducing loss, and streamlining operations.
Key Benefits:
Comprehensive Sales and Returns Analysis:

See an in-depth analysis of e-commerce sales and returns, with a detailed breakdown by store and item, to p

inpoint which top-selling and frequently returned items and uncover valuable insights into customer behaviors.

Effective Category Analysis:

Get an overview of specific aspects of e-commerce operations, including BORIS transactions (Buy Online, Return In-Store), open BOPIS (Buy Online, Pick Up In-Store) orders, $0 sales, and discounts.

Addressing Shipping Challenges:

I

dentify problematic shipping addresses and areas with a high number of claims and returns so you can optimize shipping processes, choose the right carriers, and implement strategies to reduce losses.

Enhanced Operational Efficiency:

Get a holistic view of e-commerce performance and assess various aspects of your operations.
To learn more about the eCommerce Module (including a list of included reports and technical requirements), check out the datasheet here.
Inventory Module: Master Your Inventory to Boost Sales and Minimize Losses
Traditional inventory analysis using only ins and outs provides an incomplete picture of performance and operations. Inventory records can highlight when an issue is causing shrink after the fact, but without combining it with POS metrics, anticipating and preventing problems is impossible.
Shrink isn't the only problem. When inventory lingers on store or distribution center (DC) shelves, it indicates a problem with merchandising, consumer understanding, promotion effectiveness, and can lead to lower future sales. Stagnant or old inventory hurts brand quality and customer satisfaction. And inventory stock should be driven by actual sales and projected demand. However, when merchandising overestimates demand, stores are left with excess product that's difficult to move. When merchandising underestimates demand, stores are left without enough inventory and missed sales opportunities.
Existing inventory solutions can cripple users with information overload, leading to a lack of clear action to improve problems. And without combining inventory data with sales data, merchandising will mismatch sales demand.
The Inventory Module redefines the way retailers address stock management and risk analysis, offering a comprehensive approach to risk identification by merging inventory shrink data seamlessly with POS information. The module provides insight into On Hand levels and periodic adjustments, inventory buildup, lack of replenishment, and more, enabling retailers to proactively detect potential inventory discrepancies and internal theft, while gaining deeper insights into individual store performance.
Key Benefits:

Store Sell Through:

Identify

Stores, Departments or SKUs with poor sell-through and take the proper actions to minimize the impact on shrink or potential markdowns.

Out of Stock Conditions:

High cycle count adjustments combined with zero movement are

highly reliable indicators of theft or other shrink contributors.

High Cycle Count Adjustments by DC

: Identify Distribution Center level impact on store shrink and identify high/low adjustments between stores on similar shipping routes.

Correlate Adjustments to SRA's:

Help identify dishonest cashiers by correlating SKU level adjustment to POS data elements such as voids or refunds.

Highest Shrink Items:

Pinpoint shoplifting activity by producing a list of items that have the highest adjustment levels with correlating POS data.
To learn more about the Inventory Module (including a list of included reports and technical requirements), check out the datasheet here.
Direct Store Delivery (DSD) Module: Maximize Shelf Real Estate & Optimize Vendor Interactions
There's a good reason that retailers nationwide have been integrating Direct Store Delivery (DSD) into their supply chains. It's a great deal for retailers and consumers.
Retailers reduce a wide range of inventory costs, boosting profit margins, while also improving management of shelf space in stores. Customers can expect the products they want to be on the shelf, leading to increased sales, loyalty, and customer satisfaction.
But that's only if everything with your suppliers goes perfectly. Which, as you know... it never does.
DSD is often an under managed and understaffed area in retail stores. In 2022, NRF found that almost 26% of shrink could be attributed to process and control failures. Meanwhile, vendor invoices and credits are reliant on human interaction and manual entry, which are prone to errors. And when deliveries exceed demand, stores are left with excess and expiring product, and when deliveries are under demand, stores are left without inventory and missed sales opportunities.
The Direct Store Delivery Module is specifically designed to provide visibility into vendor activity. The DSD Module complements POS data and delivers crucial metrics that help address inefficiencies and minimize operational loss, enabling retailers to gain greater insight into product performance, credit validation, and invoice tracking. This allows for the effective management of excess deliveries, delivery shortfalls, missing credits, and duplicate invoices. The DSD Module equips retailers with a powerful tool to enhance sales, customer satisfaction, and profitability while effectively managing shelf space in stores.

Key Benefits:
Excess Deliveries:

Combine DSD data with POS data to identify shrink, excess deliveries, underperforming items, and out-of codes.

Delivery shortfall:

By comparing DSD data to POS activity, gain insight into items that are frequently selling through prior to the next delivery.

Missing Credits:

Identify low- or zero-credits to track what's entering and leaving the store and find vendors and locations where credits do not meet expectations.

Duplicate Invoices:

Highlight vendors and locations with multiple invoices on the same day to reduce errors in deliveries and accounting.
To learn more about the DSD Module (including a list of included reports and technical requirements), check out the datasheet here.
Scale Production Module: Boosting Sales through Precision
Grocery businesses run on razor-thin margins, and grocery retailers need every advantage when it comes to maximizing sales and minimizing waste. This includes understanding where they may be underproducing product (such as in the meat department) and unable to meet demand, as well as overproducing, leading to perishable waste and shrink.
The Scale Production Module is a game-changer for grocery retailers striving to optimize their production. Recognizing the dynamic nature of customer demands, the Scale Production Module helps you analyze data from electronic scales alongside your point of sale (POS) data to optimize inventory, production schedules, and scale accuracy. This enables retailers to deep dive into product production versus sales trends, identifying areas of overproduction leading to spoilage or underproduction leading to missed sales. They can then fine-tune production schedules, minimize overproduction waste, and prevent underproduction shortages.
With the added ability to conduct cross-store comparisons, the Scale Production Module is an invaluable asset for enhancing sales, mitigating waste, and streamlining operational efficiency.
Key Benefits:
Overproduction:

Track items that are frequently overproduced by store location.

Underproduction

: Identify when popular products are produced, but there are no sales during peak times.

Low Weight:

Compare the difference between the requested amount ordered vs the amount received.

High Demand:

Understand store-level demand generation to make better merchandising and planning decisions.
To learn more about the Scale Production Module (including a list of included reports and technical requirements), check out the datasheet here.
Time is the scarcest asset for Loss Prevention and Operations teams, and with these modules, they'll be able to realize ROI faster than ever before.
To learn more about Agilence Analytics Modules, visit our Modules page.
Subscribe to our blog
Receive free educational resources like exclusive reports, webinars, and industry thought leadership articles straight to your inbox.