Rapidly Expanding Data Analytics Company Recognized for Outstanding Customer Service
MOUNT LAUREL, NJ—February 26, 2018 – Agilence, Inc., the leader in cloud-based data analytics solutions designed to help retailers and restaurant operators optimize sales, enhance promotion performance, and improve profits, today announced that they have won the Silver Stevie® Award for Customer Service Department of the Year at the 12th annual Stevie® Awards for Sales & Customer Service.
"The success of our customers is at the core of what we do, and it's incredibly exciting to have our 'customer first' mentality recognized with the Silver Stevie® Award," said Catherine Penizotto, VP of Customer Success at Agilence. "I am very proud of our team's efforts and accomplishments, and we look forward to helping even more retailers and restaurant operators succeed in the future."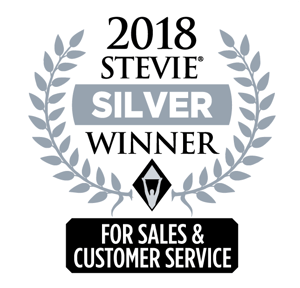 More than 2,500 nominations from organizations of all sizes and in virtually every industry were evaluated in this year's competition. Winners were selected from an international panel of judges consisting of more than 150 professionals in seven specialized judging committees.
"Our Customer Success team and their client-centric mindset are a driving force in our company and industry," said Russ Hawkins, President & CEO at Agilence. "We are honored to have won at the Stevie Awards, and will continue our commitment to providing an exceptional customer experience throughout 2018."
Details about the Stevie Awards for Sales & Customer Service, and the list of winners in all categories are available at https://stevieawards.com/sales.