How to Embrace Omnichannel in Any Industry
General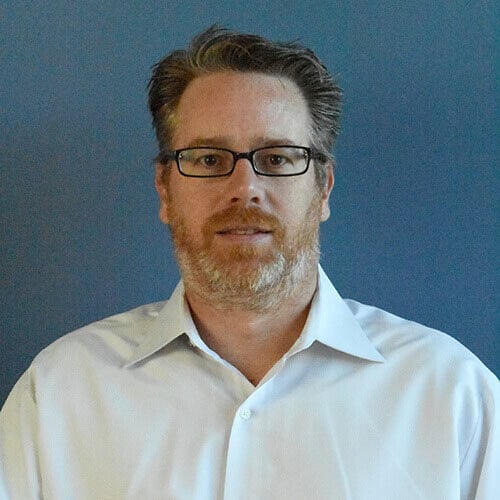 Derek Rodner
•
8 min read
Updated: July 28, 2022
Published: August 23, 2018
Every industry is discovering that buyers are most comfortable in a connected world, buying from and interacting with brands how they want and when they want. Find out how companies in any industry can create an omnichannel strategy to enhance their customer experiences.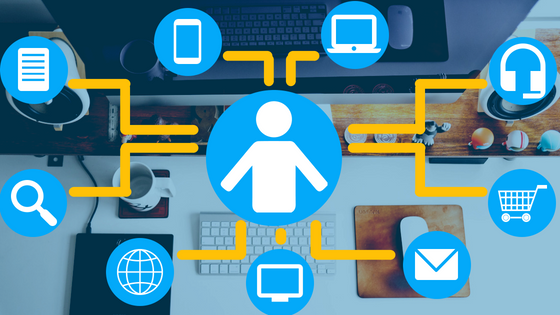 Creating an omnichannel customer experience has been a priority in retail for years. The goal of an omnichannel strategy is to improve customer experience by tying together various communication channels to create one unified, flexible customer experience. As advancing technologies continue to create more and more communication channels like smart phones, mobile apps, augmented reality, virtual reality, and chat bots, a unified customer experience isn't exclusively a retail issue. Every industry is discovering that buyers are most comfortable in a connected world, buying from and interacting with brands how they want and when they want. In fact, many industries like restaurants, grocery stores, and pharmacies are well on their way to developing omnichannel strategies. In some cases, organizations in other industries have even outpaced retail organizations to create effective omnichannel customer experiences.
Definition and History of Omnichannel
In the early 90s, brick and mortar and catalog sales (by phone or mail) dominated the retail space. By the later 90s and early 2000s, the internet had become more accessible and early eCommerce and mobile sales began to gain momentum. This marked the beginning of multichannel retail strategy. Omnichannel is simply an extension of multichannel that further expands upon the digital channels incorporated to create a seamless customer experience.
An omnichannel strategy puts the customer, not corporate silos at the center of brand interactions and acknowledges the inherent challenges this creates in terms of delivering consistency across channels. For example, the most recent Walmart back to school commercial spotlights a group of procrastinating fathers who use Walmart's mobile app to place orders for their children's backpacks and school supplies. The fathers are then able to pick up the supplies at their local store that same day so that their kids are ready for their first day walk-in celebration.
However, Omnichannel isn't solely about delivering, picking up, and returning physical goods online or in store because technological developments haven't exclusively affected how consumers interact with retail brands. So, there's no reason that an omnichannel customer experience should be limited (as it typically is) to retail environments. The concept of making communication channels work together rather than function independently from one another is applicable to how nearly every organization in any industry is doing business.
Omnichannel Isn't Just for Retail Anymore
Everyone likes options, and everyone likes when things work as expected. Omnichannel allows consumers to get what they want, when they want, and how they want. These strategies and technologies can be instrumental in elevating brand experience and leaving buyers satisfied regardless of industry.
How Limited Service Restaurants are Already Using Omnichannel
Limited service restaurants are just one example of an industry that has already begun to implement new channels into their customer experiences.
Tabletop Tablets
Limited service restaurants everywhere are using tabletop tablets to enable customers to peruse menus, order, and pay at their leisure. Diners appreciate the modern, dynamic, and easy-to-use format. Tablets can also be carried by servers to maintain the interactive, interpersonal experience. Servers can even use tablets to send orders to the kitchen without ever having to leave the customer's side, further building their rapport with the patron.
Online and Kiosk Ordering
Online ordering is a rapidly growing segment of the massive delivery and takeout market. A growing number of quick service restaurants have implemented an online ordering platform to deliver convenient access for customers. Process and property changes such as installing food warmers, dedicated pickup desks, or parking areas may be necessary. Many online ordering services now offer up to the minute updates on the order with descriptions like "In the Kitchen," "Out for Delivery", and "At your Door" giving the customer live updates on when they can expect their delivery or when their order is ready for pickup. Many restaurants have even adopted third party experience providers like UberEats and GrubHub for delivery services. In fact, customers have gotten so comfortable with the online ordering channel that in addition to tabletop tablets, many fast-casual restaurants are adopting ordering kiosks in store to mimic the online ordering experience for their guests.
Social Media and Loyalty
Social media and loyalty integrations are another common component of a fast-casual restaurant's omnichannel road map. Examples can include creating links from promotions to ordering platforms or utilizing loyalty mobile apps.
5 Keys to an Omnichannel Strategy for any Industry
Invest in a Consistent User Experience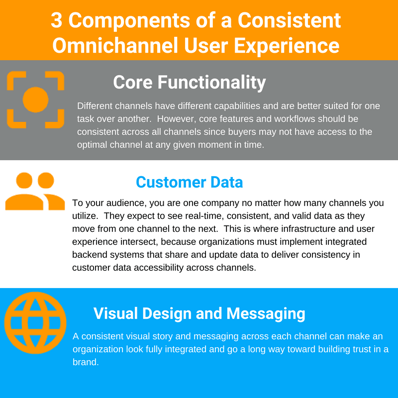 It's easy to get caught up in infrastructure, but the focal point of any omnichannel strategy must be creating an exceptional and consistent user experience. As a user moves from channel to channel to complete a specific task or many tasks over time, they'll experience many channel experiences influenced by elements like visual design, content, tone of voice, and functionality. Delivering consistency among these elements improves both customer experience and brand recognition while encouraging trust in the organization.
There are three main areas of the user experience that should be consistent across the omnichannel ecosystem. Delivering consistent functionality, data, and design/messaging will create a holistic omnichannel experience throughout every touch point of the customer's journey.
Prioritize Seamlessness and Quality
When a consumer engages with an organization through a specific channel, they view it as one of many interactions that make up their overall user experience with the company, regardless of channel. If digital quality is lacking or disjointed, customers won't waste time or money on an organization in any industry. With the rise of mobility and interconnectivity, and the proliferation of new devices and interaction channels, customers expect an experience that's efficient, accessible, and that moves with them as they change devices and context.
It's not enough to offer workable solutions on various disjointed channels. Organizations in every industry must begin to blur the lines between these experiences, allowing users to move seamlessly between them without difficulty or sacrificing the quality of the overall experience. Crafting a seamless customer journey requires organizations to understand how customers move between channels to complete tasks, and to identify and eliminate potential roadblocks. Many roadblocks or difficult transitions between channels are due to a fragmented back end infrastructure and often require investment in integrating back end systems to overcome system constraints.
Understand the Context of Use
Organizations must understand each channel's role in the customer journey and design for that channel's context while creating omnichannel user experiences. To understand the context and use of each channel and deliver the right experience at the right time, organizations must understand these four elements:
Why are they engaging with the business? Users' most important and common tasks
When and where are tasks completed? The typical setting, environment, and point in time
How are tasks completed? Devices and channels used to complete tasks
Where are tasks completed? The strengths and weaknesses of each device and channel
As mentioned above, consistency is one of the most important components of a positive omnichannel experience. However, it doesn't mean that every channel should deliver the exact same experience. The goal is to provide core consistency, compromising where appropriate to optimize for the channel and device being used.
Update to True Personalization
Every buyer is unique, so every buyer's journey is unique. 86% of consumers say that personalization has at least some impact on their purchasing decisions. Organizations must adjust their strategies to personalize experiences to match the individual's preferences. Omnichannel personalization is the practice of creating customer experiences that are informed by real-time data from all channels and extending them across every touch point to build a consistent experience with the customer everywhere they interact with the brand.
Know your Data
Organizations with the ability to collect and interpret omnichannel data are well positioned to be industry and market leaders. However, as more and more channels and technologies are added to the mix, the velocity of incoming data and the challenge of interpreting these various datasets can grow exponentially. Traditional methods of data analysis cannot efficiently derive value from so many differing channels, platforms, and datasets. Companies often lack the technology and organizational culture to effectively break down data silos and stitch data together. As a result, they can often only view a fragmented view of the customer experience at any one time.
To better understand the intersection and performance of various channels and to continuously improve the omnichannel customer experience, organizations require a robust data analytics solution. A solution like 20/20 Data Analytics can consolidate various data sets and analyze data to identify patterns or events that warrant attention and utilize various visualization methods to deliver easy-to-understand, actionable insights.
Omnichannel may seem like a retail specific industry term, but the truth is that so many technology channels have saturated our culture that every business, regardless of industry, are already or should be developing an omnichannel strategy. Embracing omnichannel will allow your organization to better serve your customers on their terms. Successful omnichannel experiences are consistent, seamless, optimized for the channel, personalized, and based on data.
Want to learn more about breaking down data silos and creating an omnichannel strategy? View our on-demand webinar, "Democratize your Data: Overcoming Internal Information Silos."
Subscribe to our blog
Receive free educational resources like exclusive reports, webinars, and industry thought leadership articles straight to your inbox.