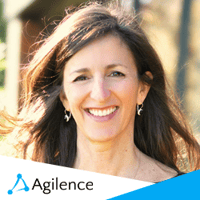 MOUNT LAUREL, N.J., October 13, 2020 (Newswire.com) - Agilence's VP of Customer Success, Catherine Penizotto has been named the winner of a Bronze Stevie® Award in the Female Executive of the Year category among businesses with up to 2,500 employees in the 17th annual Stevie Awards for Women in Business. Penizotto was recognized not only for her team's astonishing performance metrics including an industry-leading 80 NPS score and 99.5% overall customer success satisfaction rating but also for her customer advocacy within Agilence.

"Catherine ensures the voice of our customer is heard in every initiative at Agilence," said Russ Hawkins, President and CEO of Agilence. "With her leadership, we've built a thriving customer community and truly embraced a culture of customer advocacy within our organization. I couldn't be happier that she's receiving this well-deserved recognition."
​Agilence customers agree:
"One thing I have learned about Cathi over the years is the passion she has for her work and what she believes in is contagious," said Donna Imfeld, Asset Protection Senior Analyst at Golub Corporation/Price Chopper Supermarkets. "She always finds a solution and her dedication to providing excellent customer service is never disappointing."
Jennifer Zammikiel, Manager, Finance Analytics at Jo-Ann Stores, Inc. said, "Cathi reaches out to each individual to ensure their needs are met. She pays close attention in conversations to make sure she fully understands challenges and she gives guidance or direction to quickly implement solutions. She also ensures additional support is there for future improvement. She sincerely cares to help others improve their work."


Catherine brings over 30 years of Retail Operations and Executive Leadership experience to her role as VP of Customer Success at Agilence. She is responsible for all aspects of client onboarding, application and technical support services, as well as the cultivation of client relationships and planning of Agilence community events. Her leadership has led her team to be recognized with three consecutive Stevie Awards for Customer Service Department of the Year.


During the COVID-19 crisis when many of Agilence's Retail and Restaurant customers have needed additional support, Catherine's team was able to reduce response and case resolution times by 25% while continuing to deliver exemplary service. Her team also recently hosted the 7th Annual (but first virtual) Agilence User Forum, an event to cultivate the customer community and promote users to share content, tips and tricks, and success stories.


The Stevie Awards for Women in Business honor women executives, entrepreneurs, employees, and the companies they run – worldwide. The Stevie Awards have been hailed as the world's premier business awards.