100 percent growth in attendance year over year signifies the increasing interaction of the Agilence Community
MOUNT LAUREL, NJ, September 30, 2015 – Agilence, Inc., the leading provider of cloud-based reporting solutions for operations and loss prevention, today announced the successful conclusion of their second annual User Forum at the Franklin Institute in Philadelphia, PA. 35 attendees from 17 different clients gathered to exchange success stories, learn new tips and tricks, share unique uses of the application, and network with like-minded professionals.
Agilence's CEO Russ Hawkins had this to say of the event, "Collaboration is vital to the advancement of loss prevention and operations. By bringing our users together we have created a community of sharing and learning that will enable each of our clients to stay ahead of industry trends and make the most of the 20/20 application."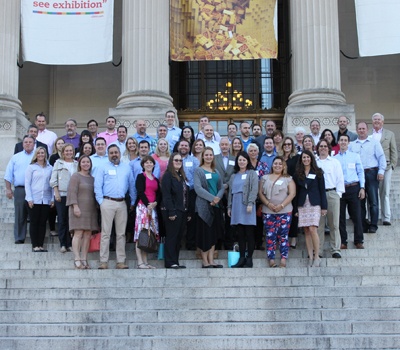 The Forum featured a keynote presentation which discussed the future of data analytics, and what is possible for retailers today if they take advantage of all the data at their disposal. There were also presentations by multiple users, as well as breakout sessions to discuss industry developments and best practices.
"This was a great event and a fun two days for me. It was nice to see how my peers are using the application in unique ways by bringing in multiple data feeds and sharing the results with different departments. Moving forward I think loss prevention can become the hub for all data analytics within a company, and it was reassuring knowing that other Retail 20/20 users feel the same way," said Gregg Smith, Sr. Director of Asset Protection, Five Below.
The common theme flowing through the entire User Forum was the idea of working with different departments within your own organization, making the most of the data at hand to improve every aspect of the business. Attendees also had the opportunity to help drive a discussion around the future of Retail 20/20, and voted on the priority level of planned functionality improvements.
Jeremy Shultz, AP Analyst, Brookshire Grocery Company said, "Karla and I have taken a lot away from this year's User Forum. It was great to meet other users from around the country and to share stories about the different ways we utilize Retail 20/20. It was also nice to see what's on the horizon with Agilence, and to have a say in the direction of the software."
"I've spent many years working in HR and I walked away from the User Forum thinking 'Wow, what an amazing group of people,'" said Joe Sherman, Director of Loss Prevention, Au Bon Pain. "The Agilence team is comprised of smart, passionate, and respectful individuals, and the user group is filled with many talented professionals striving to make loss prevention more effective within their own organizations."
About Agilence
Agilence (www.agilenceinc.com) is the industry leader in data analytics and reporting solutions for operations and loss prevention. Agilence develops its cloud based 20/20 solution for retail, food and beverage, and pharmacy markets. 20/20 is a highly flexible and powerful application that provides organizations with a complete view of their business, empowering them to make informed decisions faster, to increase efficiency and improve profit margins across the enterprise. Agilence, Inc. is headquartered in Mount Laurel, NJ. To learn more about Agilence, please email sales@agilenceinc.com or call 856-366-1200.
##
MEDIA CONTACT
Adam J. Creamer
856-366-1200
acreamer@agilenceinc.com