How Restaurants Are Using Data Science to Climb Up the Standings
Whether or not you are a fan of baseball, you have likely heard the term "Moneyball" referenced at one time or another.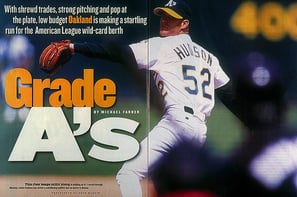 The term originates from a 2003 book of the same name (turned hit movie with Brad Pitt) about Billy Beane, General Manager of the
Oakland Athletics, who would go on to become a sports analytics pioneer. Beane challenged the conventional wisdom of Major League Baseball by building a winning baseball team through a groundbreaking, data-driven approach.
Prior to Beane's revelation, GMs attempting to solidify their roster resorted to a manual, "go out and see them play" methodology. This antiquated, albeit pervasive method relied almost exclusively on the keen eye of upper-level scouts (think Clint Eastwood in Trouble with the Curve) and the all-important "stat-line" (Batting Average, Home Runs, Stolen Bases, RBI, etc.). However, Billy Beane's new approach, dubbed "sabermetrics*," relied less on the old school, manual scouting element and more on data science (specifically advanced quantitative statistical analysis) to determine a players' worth as well as their fit to his existing ball club.